Trainers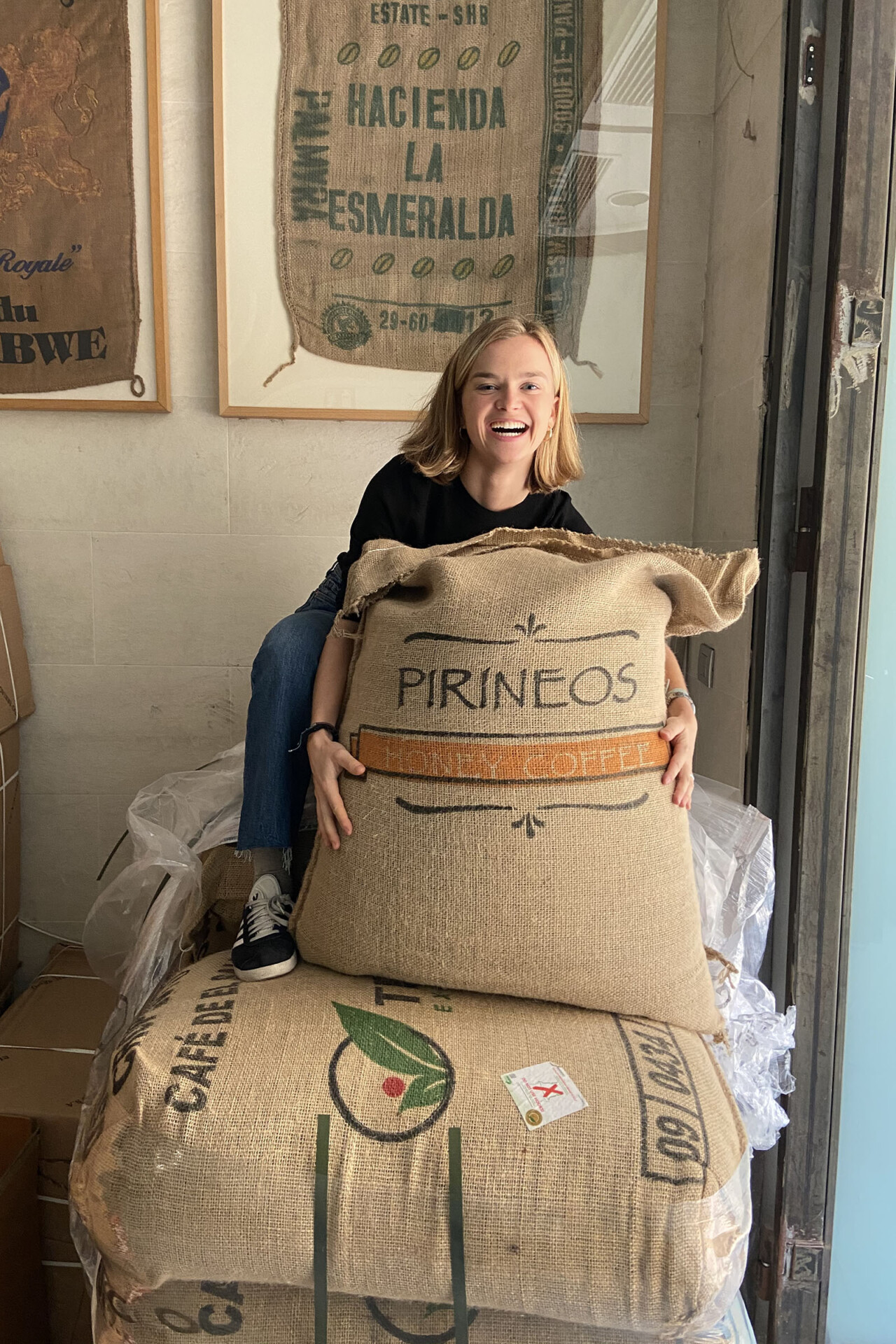 I have had the great opportunity to travel to several coffee producing countries around the world such as Nicaragua, Ethiopia, Guatemala and Colombia.
A graduate in Literary Studies from the University of Barcelona, she has worked in Cafes El Magnifico since 2014. It is then she began to understand the workings of somewhere that has always been her home. Coffee, Coffee sacks and coffee roasting have been part of her life since she was a little girl, watching her father work and learning the workings of Cafés El Magnífico long before she joined the team.
Claudia leads Quality Control in Cafés El Magnifico – roasting samples, tasting and selecting seasonal coffees to add to the coffee menu. She also develops control protocols for the quality control team, updates the taste profiles of selected coffees and leads sensory training courses.
Claudia is a curious person who appreciates the importance of continuous training that the business of speciality coffee demands today.
She attended the first Sensory Summit organized by the SCA in Europe, graduated in "CursQ Processing Generalist" from the Quality Coffee Institute and was a judge in the "Best of Cauca 2020," testing the 40 best batches of coffee in the Colombian region.
As well as her passion for coffee, which is a given, she has a great love for yoga. Physical activities, reading, culture and discovering new places are how she loves to spend her free time.
My ultimate job aspiration is to combine the rigor of scientific method with the most creative and subjective part of organoleptic research to offer exceptional coffees.
A Graduate in Biomedical Engineering from the UPV with a master's degree from the UB / UPC, he entered the world of specialty coffee in 2017, when he bought his first Aeropress while finishing his Bachelor's degree in Chile. For two years he devoted himself to exploring the different methods of preparation and decipher the secrets of extracting coffee.
In 2019, this combination of curiosity and scientific method enabled him to make the big leap, mixing his passion with work to join the Cafés El Magnífico team. Jorge designs toasting profiles, develops quality control processes and is constantly fine tuning in-house research, development and training. In 2020 he was selected as an official trainer of BaristaHustle and now teaches the certified courses in Cafes El Magnifico.
However, not everything in his life revolves around coffee, you can also find him doing theater, climbing, playing the guitar or throwing himself into a new obsession.
I've always enjoyed having contact with the end consumer, interpreting their tastes and creating experiences to help the still-growing specialty coffee industry continue to evolve.
Specialty coffee came into her life by chance when she moved to Buenos Aires in 2013. At that time, it was hard to imagine that her curiosity about the product and the desire to travel would allow her to be part of the community of professionals in the sector.
It started in a cafe-roastery, LAB Tostadores, where the 3 partners were specialists, each in their own subject. One of them was WBC Sensory Judge Danilo Lodi. He managed not only to pass on his passion, but also share his knowledge. "He taught me to always ask the why of things, to experiment and train me conscientiously, I have brought his teachings with me, even though we no longer work together."
He was her trainer and from there she was able teach others how to work the raw material, training individuals and customers.
Her three month stay in Sao Paulo was key to her progress in the speciality coffee world: from the farms of Minas Gerais to the hands of importers such as Bourbon Coffees, the roasters in FourBeans (in Curitiba) and Hugo Wolff and her contact with various specialty cafes all helped solidify her passion for speciality coffee to grow.
Marina moved to Barcelona in early 2016 to work as head barista in Black Remedy. She later assisted Compak Coffee Grinders at international fairs (LondonCoffee Festival, WBC in Dublin, Host Milano, WBC Seoul and WBC Amsterdam).
In 2018 she moved to Dalla Corte Spain as Coffee Ambassador, until its closure on the peninsula, developing her knowledge of machinery.
Marina is now part of the Cafés El Magnífico team, as head Barista, leading both internal and external training, quality control and events and retail.